"Smurf-Fu" ("Schtroumpf-Fu")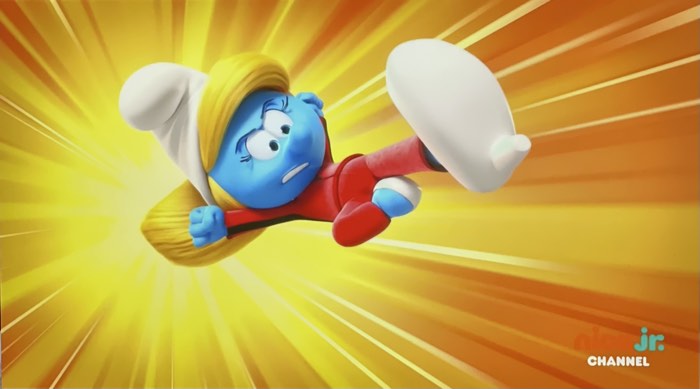 Summary: Smurfette attempts to teach a group of Smurfs the art of Smurf-Fu so that they might better defend themselves against an external threat like Gargamel. Training doesn't go well, the other Smurfs walk away from Smurfette, but Bigmouth the Ogre kidnaps three Smurfs and puts everyone back on the same page. One for all and all for Smurf!
Commentary: This is a Smurfette-centered episode, but it starts with Brainy getting a great introduction: He's caught in the throat of a snake. How did he get there? He was lecturing the snake. Why is Brainy lecturing a Smurf? Because he's Brainy; it's what he does.
Nobody would blame the snake for trying to shut up Brainy at any cost, would they?
When Hefty can't get the snake to return Brainy, Smurfette shows up and uses her Smurf-Fu to force Brainy out. Now, the Village can again be constantly lectured about things Papa Smurf would and wouldn't say. Thanks, Smurfette!
This impressive show of skills leads other Smurfs to want to learn the same thing. Smurfette opens up a class but the other Smurfs have a tough time keeping up. She's preaching self-reliance to a group of Smurfs who only know what it's like to work together. It's the exact opposite of how that set-up usually goes, which is what makes this such a naturally funny topic.
There's a great moment during one of the trainings where one Smurf helps another. Smurfette stops everything: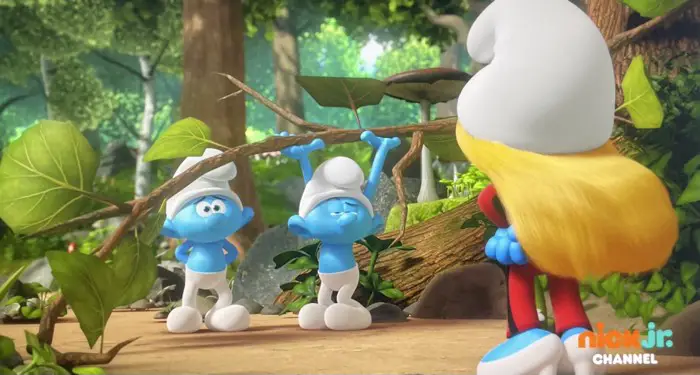 Smurfette: "Hey, you can't do that! What if you were alone in the forest? What would you do then?"

Random Smurf: "We're never alone in the forest."

Smurfette: "But what if you were?"

Silence, and the perfectly timed eye blink to go along with it.
It's a great bit of self-awareness without getting into self-parody. That's a line this series turns out to be very good at.
Training doesn't go very well. The Smurfs are weak and rely on each other too much to go far. Smurfette has to kick all of them out. Handy tries to point out to her that Smurfs rely on each other, but Smurfette calls them all weak and walks away.
In France, this story was part of the second episode of the series. In America, Nickelodeon moved it up to the first episode. It feels like they wanted to start with a fight against the notion that The Smurfs is a nearly All-Boys show and they wanted to show that this updated version would fit in better with the world of 2021.
Would it be a step too far to feature a Smurfette in this series whose daily costume is a tracksuit instead of a white dress, and whose main personality trait is her usage of Smurf Fu? Are they overplaying their hand in trying to modernize her by going too far in the opposite direction?
And would people complain that she did her Smurf-Fu in this episode in heels? (Remember the Jurassic Park to-do?)
I think they do balance it out through the series. She's not always in the tracksuit. In fact, she's mostly in her white dress, and she's not using her Smurf Fu to save every episode. She's not a one-dimensional character, and she can play a variety of roles in the series.
Also, the series includes characters from the "Lost Village" of the most recent animated movie. You get Smurfblossom, Smurflily, Smurfstorm, and Smurfwillow to help round out the cast. They're not in every episode, but they play important parts in several. They haven't moved into the main Smurfs Village, so it's not like they're always there.
Back to the story: The ogre kidnaps three Smurfs. Smurfette attacks him with her powerful Smurf Fu and fails entirely. She's captured now, too. It's only the teamwork of all the Smurfs working together that saves the day.
The message of the show is that you're not a special snowflake. Without the group, you are nothing. Forget individualism when you're a Smurf. You need the other Smurfs.
No wonder why some in the 80s though the Smurfs were socialist propaganda….
In the end, it's a fun episode to start the series, though I could have done without the fart joke — stupid, crude, and unfunny. I bet every seven year old boy watching the episode loved it, though.
I also prefer not to ponder the deeply philosophical and political meanings of every story, so don't be looking for that here. Sometimes, a cartoon is just a cartoon. It's entertaining and that's enough.
Credits:
Script: Peter Saisselin, Amy Serafin
Storyboard Supervision: Alexandre Viano
Storyboard: Jean-Luc Abiven
Director: William Renaud
"Diaper Daddy" ("Robot-Nounou")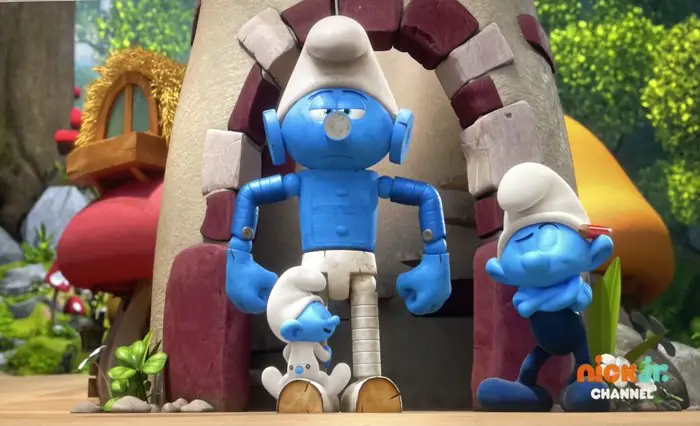 Summary: It's Handy Smurf's turn to change Baby Smurf's diaper, so he builds the ultimate diaper-changing robot. And, yes, of course, things go wildly wrong. Turns out, having laser beams shooting out of a robot's eyes to incinerate dirty diapers can also lead to troubles when the robot malfunctions and sees everyone as a threat to the baby's life.
Comments: The entirety of Smurfs Village is thrilled to have a robot to take care of Baby. One of them says how great it is that nobody will have to pay attention to Baby Smurf or change his diaper ever again.
Whoa.
That's Bad Parenting 101. Having an automation process for diaper changing is one thing. Leaving a robot in charge of child care is just abuse.
Is this episode a critique of the Silicon Valley mindset that automation can fix everything and make everyone's day-to-day life easier at the cost of humanity? Er, no, it's just a fun show with a robot that gets jumbled up and attacks. Remember what I said above about not looking for political angles here? That holds here, too.
Sure enough, there's an immediate sequence showing a day in the life of Diaper Daddy taking care of Baby Smurf. It includes lots of examples where the robot demands people stay out of his way while he walks through town, and punishing those who aren't fast enough to move out of his way.
His programming is clear: Protect Baby at all costs.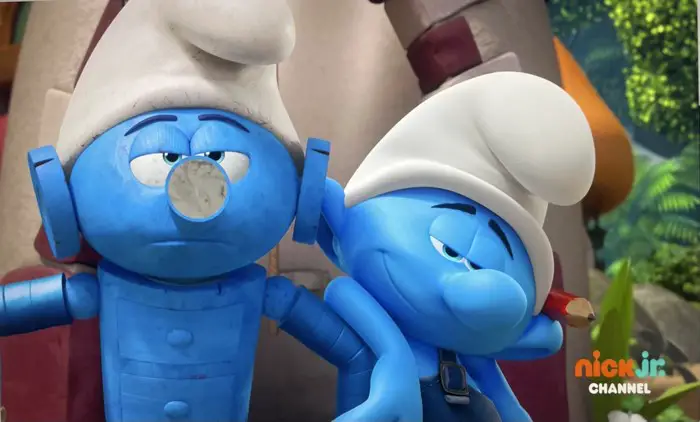 These are minor infractions, but once the robot gets hit in the head with an errant paint can, he turns ludicrously evil. Everything is a danger to the baby he's programmed to protect, to the point where his laser eyes are shooting down butterflies to keep the air clear. That leads to a chase through the woods, where the robot quicky dispatches anything that gets in his way, including Gargamel and Azrael.
Meanwhile, the Smurfs are fighting amongst themselves over who's responsible — Handy for the flaw in his malfunctioning invention, or everyone else who didn't volunteer to change a diaper?
Papa Smurf: Handy, why in Smurfs' name did you design him with fireballs?

Handy: I don't know. I thought it was cool?
The premise is predictable, but the fun and games when The Smurfs confront the robot at a tower in the forest are a lot of fun. It's the big set piece for the episode and it works well.
Grouchy Smurf gets his star turn here; please don't be the one to talk about how unrealistic it is that he can fall faster than the baby to save the kid's life. It's a Smurfs cartoon. Run with it.
There's also a repeated gag when the robot is tossing people above the forest canopy to get them out of the way. It reminds me a lot of Asterix with the Roman soldiers flying through the air.
Credits:
Script: Peter Saisselin, Amy Serafin
Storyboard Supervision: Alexandre Viano
Storyboard: Stéphane Annette
Director: William Renaud
Next Episode!
In Episode 2, we ask two vital questions:
Is it possible to get Grouchy to smile?
Is there such a thing as too much Jokey?
Stay tuned…