"Flying Ace" ("Le baptême de l'air du Schtroumpf Maladroit")
Summary: Clumsy decides his future lays in the sky. So he wants to fly. What could possibly go wrong?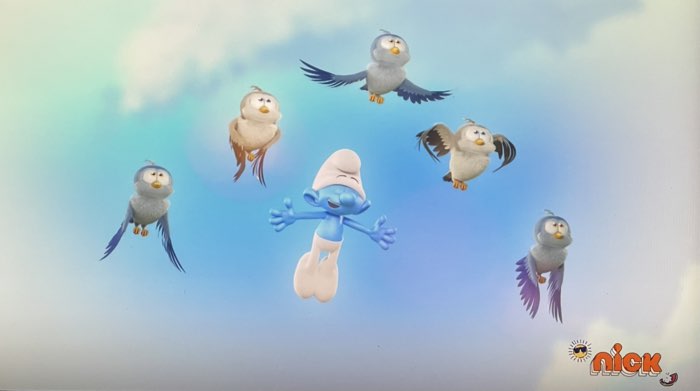 Commentary: Only Clumsy could blow up Papa Smurf's lab while attempting to go fishing. This short opens up with Clumsy carrying his fishing rod with a hook dangling off the edge of it. Every other Smurf in the Village is dodging him for their own safety, but in a Rube Goldberg/Three Stooges series of events, Papa's lab goes boom.
Papa Smurf tells Clumsy to go somewhere where he won't hurt anyone. On his way out, Clumsy sees a bird flying through the air and dreams of being in the sky, away from everyone.
And in a moment that literally made me laugh out loud, Clumsy jogs off all smiles to become a flying Smurf and accidentally blows up Papa's lab yet again. That gag is perfectly timed.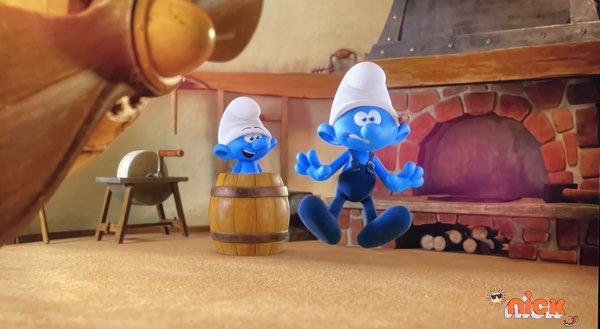 Clumsy runs to Handy to ask for flying lessons in Clumsy's plane. Handy absolutely refuses to, but Clumsy is so annoying and persistent that even Papa Smurf is ready to give in.
But first! Papa Smurf has a gizmo to install in the plane so that Handy can be the one to actually fly it via a remote control that looks like a video game controller. It's an adequate mix of modern technology and Smurfs magic to get to the laughs in the episode.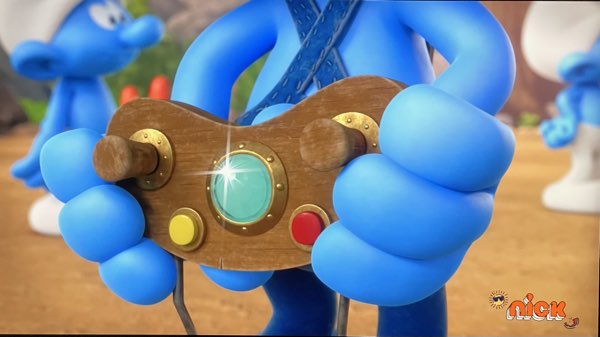 So Clumsy is off in the air, but Jokey is bored by it and breaks the remote control because Jokey is an &*$h#@$, as I've covered before.
The rest of the episode is a madcap chase through the skies, as Handy attempts to land Clumsy's flight before he accidentally takes out the entire Village in a fatal crash.
In reality, Clumsy turns out to be an amazing aerialist. All of his near-death experiences are saved with the most perfect control and well-timed stunts, spins, and extreme maneuvers you can imagine. As with other adventures, they come across an ogre, the bear, and even Gargamel along the way. (Gargamel hilariously runs up the stairs in his hovel to take to the air in his plane before realizing he doesn't have a plane.)
I really liked this one. The set-up moves fast and has a few surprises that got me. And the back half with all the antics in the airplane is a lot of fun to watch, even if there are a couple of moments where the plane looks like a practical miniature hanging by strings in the air. It's a weird thing, though it does have its charms.
The Smurfs are so cartoony, but their props are often very realistic looking. The plane doesn't move like a sleek stunt plane. It bobbles in the air, no doubt from its lack of aerodynamic styling. It is barrel-shaped, after all!
Bonus: We get this nice overview of Smurfs Village: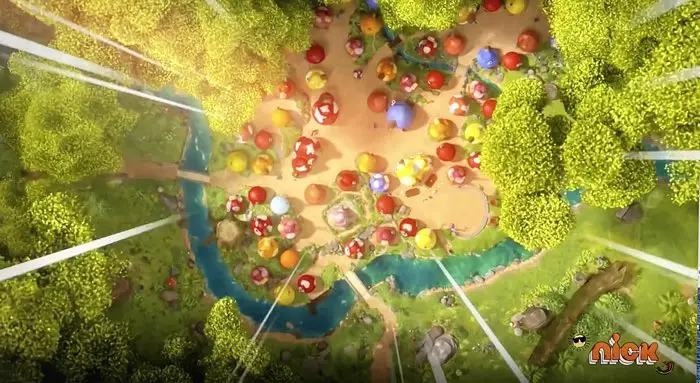 I count about 55 visible houses. I'm sure there are others under the trees, too. But it does look like every Smurf has their own house, so we need to get to 99, at least. I'll assume Baby Smurf lives with — somebody. Haven't quite figured that out yet, either.
It's fun to see the layout of the Village from this angle, though. There's definitely no urban planning and grid designs going on here.
Title Translation: That French title looks super long, doesn't it? It's not too bad, though. It basically means "Clumsy's First Flight". I think I prefer "Flying Ace."
Credits:
Script: Peter Saisselin & Amy Serafin
Storyboard Supervision: Alexandre Viano
Storyboard: Alexandre Ulmann
Director: William Renaud
"Lab Assistant" ("L'Assistant du Grand Schtroumpf")
Summary: When Brainy twists his ankle, Papa Smurf replaces him as an assistant with — a monkey.

Commentary: How did it take me this long to figure it all out?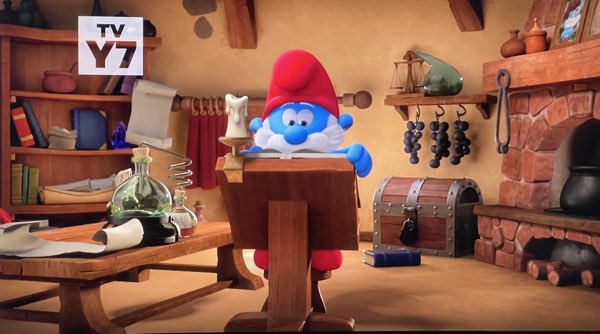 Hmmm, a wise, older, bearded man who is proficient in the art of magic and lives in an isolated Village nestled in a forested area of mainland Europe.
Papa Smurf is the Druid Getafix from "Asterix"!
I had some serious flashbacks watching this cartoon. It begins with Papa preparing to leave the Village to head off to a Magic Convention. Asterix readers will recognize that as the beginning of the plot of the third Asterix book, "Asterix and the Goths".
Laid out neatly on his table are several sickles, which were a big plot point in the second Asterix book, "Asterix and the Golden Sickle".
It's been there all along. The Smurfs started a year earlier than Asterix, though not quite as fully formed. They were published by Spirou, a magazine rival to Pilote Journal, where Asterix came up starting in October 1969.
It's not that one copied the other. There were certain patterns and themes in the air at the time. And The Smurfs were set during Renaissance times while Asterix was set in the Roman occupation of the 40s B.C., so they did have different backdrops.
If you looked at Saturday morning cartoons in the 80s, though, everyone was flat out copying the Smurfs in one way or another. From The Snorks to the Get Along Gang, they all hoped to catch that wave..
OK, so back to this cartoon.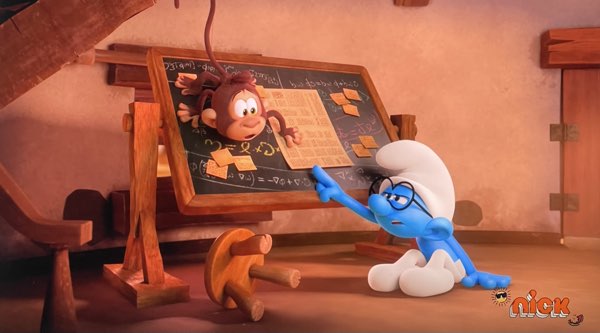 It's a fun one. Remember the monkey from the episode, "Monkey See, Monkey Do"? He's back in this episode as Papa Smurf's interim assistant at a critical time just before his trip to the Magic Convention.
Brainy, for reasons of both jealousy and intellectual superiority, does not like the monkey and fears losing his job. He'll do anything to keep the monkey out, including some underhanded and deceitful tricks unbecoming of a Smurf.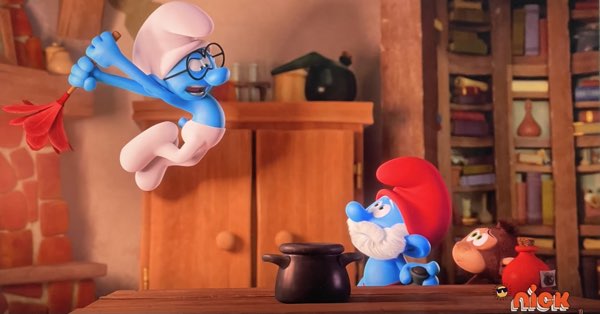 It's a great contrast in characters between the book smart Brainy and the more anarchic monkey, who can be very good at particular parts of his job when he likes it. And he really likes to do well when it makes Brainy look smaller.
In traditional kid-friendly fashion, the squabble between the two eventually escalates to an unsustainable level before an understanding happens between the two.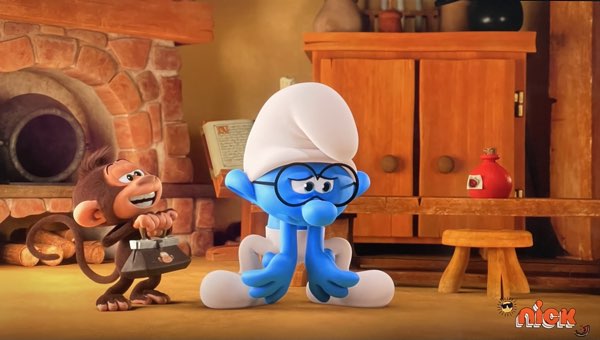 The monkey is a lot of fun, and I'm all for seeing him getting a new story every once in a while. He's cute, he makes great faces, and he can bounce around easily. Brainy has moments where he's sympathetic, and other moments when he's pure evil. At least he's not entirely obnoxious, as he usually is.
Title Translation: The two titles are pretty close to being the same. The French one reads pretty obviously as "Papa Smurf's Assistant." I think I prefer that one, just for being a little more specific.
Credits:
Script: Peter Saisselin & Amy Serafin
Storyboard Supervision: Alexandre Viano
Storyboard: Romain Cislo
Director: William Renaud