Before we begin: Nickelodeon was really excited about the debut of one of their shows some four hours after this episode aired when I recorded it. So, in most of the screenshots in this review, you'll see that annoying countdown in the bottom right corner of the screen. I hate it and wish it wasn't there, but I suppose I can't complain too loudly.
Yet, here I am.
"Papa Times Two" ("Dans la peau du Grand Schtroumpf")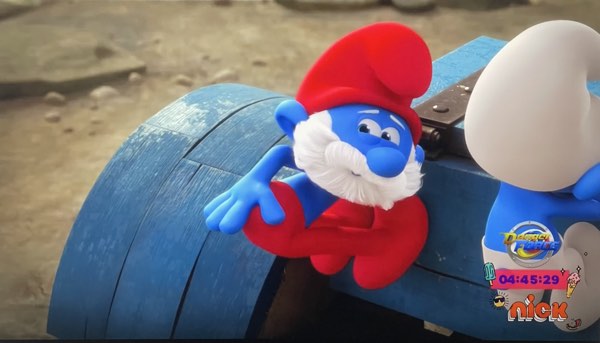 Summary: Vanity helps an unnamed Smurf look like Papa Smurf. Faux Papa then power trips, pranking the whole village, and setting off a series of events that ends in a chase through the forest with Gargamel. Of course.

Commentary: This story opens with Smurf Garbage Day! Yes, those little barrels outside the mushroom houses are actually garbage cans, and there are two unnamed Smurfs running the truck to go through the Village collecting all the refuse.
I don't know where the Smurfs Garbage Dump is, nor do I want to know. I'm training myself to stop thinking about Smurfs Village in such a "real world" way. Let this just be a fun cartoon, darnit.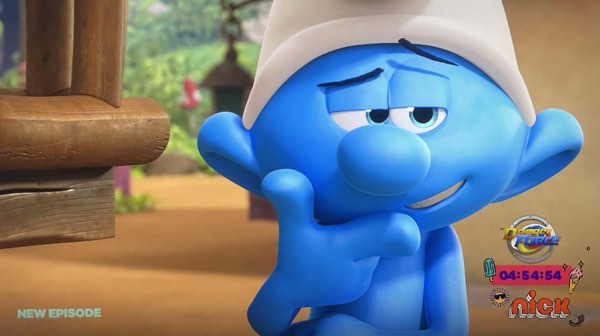 The other interesting part about this one is that the Faux Papa Smurf is an unnamed, character-less Smurf. He's a completely blank slate. He's the base model Smurf. His only characteristic is that he has a job collecting garbage, but that's not his personality. It kind of works into it, though, since he talks about wanting to be less of a cog in the Smurf machine and more a Leader of Smurfs, whom everyone respects and follows.
Just thinking through this now, I need to look back to see if there was ever a "Garbage Man Smurf" figure back in the 1980s. I can picture a Smurf carrying a black back over his shoulder, or dragging a garbage can behind him…
When I Google for "Garbage Man Smurf," I get this story of local interest about a reputed mobster:
Carmine "Papa Smurf" Franco, a reputed Genovese Crime Family boss who became a leader and innovator in the trash hauling industry in New Jersey, Rockland and Westchester, died Monday following complications from COVID-19.
I keep staring at his picture from that article, mentally drawing a bushy white beard on his face to see how he'd look in the role…
I also looked up BlueBuddies.com and didn't find a Garbage Can Smurf on the list.
Anyway, back to the cartoon:
I like how Garbage Man Smurf convinces Vanity to give him a makeover to look just like Papa Smurf. Vanity resists at first, calling it "immoral" to copy someone else's look. But Garbage Man Smurf plays on Vanity's vanity to reconsider. Vanity baits the hook pretty good when he mentions that only someone of great talent could do that kind of job anyway.
"You're the only one talented enough, Vanity." is all Garbage Man Smurf had to say.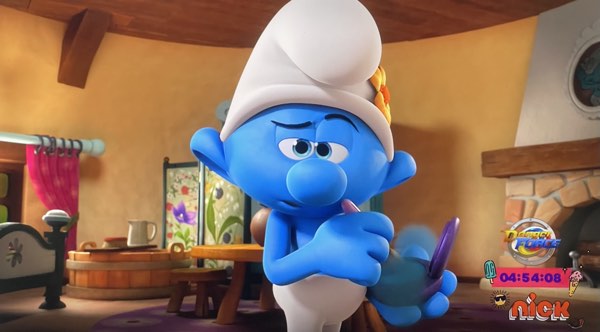 Boom! He's in! There's a great sequence after that where Vanity is doing his best makeup job to create the Papa Smurf look. It's all directly from the point of view of Garbage Man Smurf, and the running commentary is a hoot.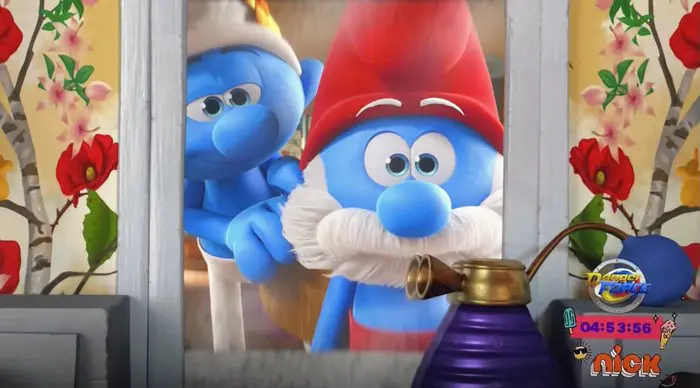 Once the makeover is complete, Faux Papa only takes about thirty seconds to start abusing his powers, having two Smurfs do push-ups while he watches from the bench and sips on his coffee. That leads to other minor disasters like Clumsy driving the fire truck and Chef Smurf baking two different deserts while unwittingly and slowly being driven insane by the two Papas.
But my favorite moment of the whole short might be when Brainy decides Papa Smurf is under some kind of spell from Gargamel. We randomly cut over to Grouchy Smurf sitting on a bench with his arms crossed and muttering, "Me, I don't like Papa Smurf being under a spell." It's so completely random and out of nowhere that it caught my attention.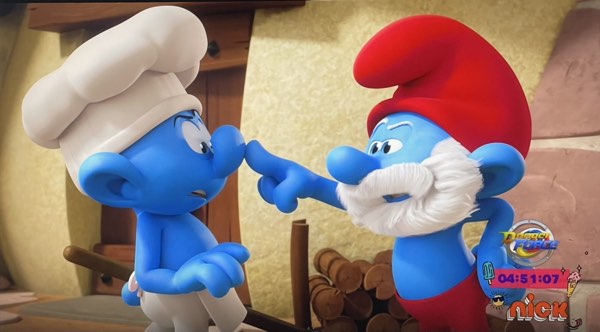 Brainy concocts a magic potion to cure Papa Smurf of the spell he's under. When Papa drinks the unnecessary potion, though, he goes crazy, smacking his butt and pushing his body into dozens of random and crazy positions. Then he steals Brainy's segway and launches himself into the woods, where this episode's obligatory "Race Though the Forest" scene happens once the garbage truck races off after him. Yes, it comes complete with the spikey white lines!
Things get really silly and Vaudevillian once Gargamel captures the real but crazy Papa Smurf, only for the fake yet lucid Papa Smurf to also show up to the rescue. Madness commences in Gargamel's hovel.
A lesson is learned in the end, just like in all those classic 80s animated series I watched as a kid. It's spelled out pretty explicitly here.
There's a lot of fun in this one and I enjoyed it. Chef wins the slow burn award, though.
Title Translation: "In the Shoes of Papa Smurf" also works well, but feels a little wordy for a Smurfs title in English. Both titles fit the story, but I think I like the English one better in this case. I'm a sucker for alliteration…
Credits:
Script: Peter Saisselin, Amy Serafin
Storyboard Supervision: Alexandre Viano
Storyboard: Stéphane Annette
Director: William Renaud
"Fake News" ("Scoop chez les Schtroumpfs")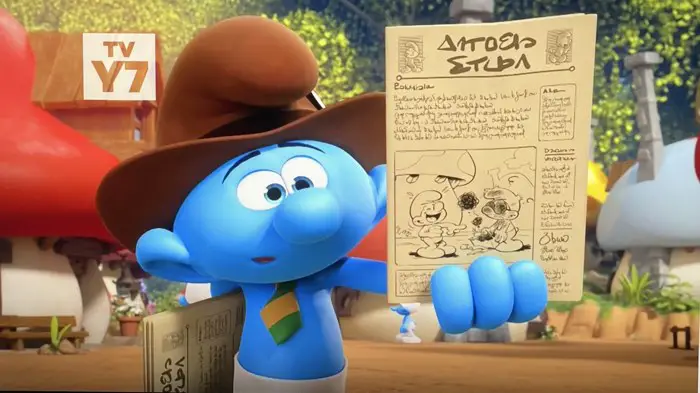 Summary: Jokey Smurf makes up his own scary headline to convince the other Smurfs to read the newspaper. Then he has to back up his lies with proof. Then the Village panics.

Commentary: You don't see too many Smurfs shorts in this series that are about a message concerning the state of society today. There aren't many parallels to real-world situations, or pointed commentary on humanity's inhumanity or cynical nature. You need something more like "Asterix" for that.
But when the title of this short is "Fake News," you immediately know people are going to read something into this episode to match their political beliefs. Don't do that. This is more a story that parallels Yellow Journalism issues from 120 years ago than modern events.
Certain truths are timeless, though: Scary headlines sell. Trust, but verify. Jokey Smurf is an #&$%.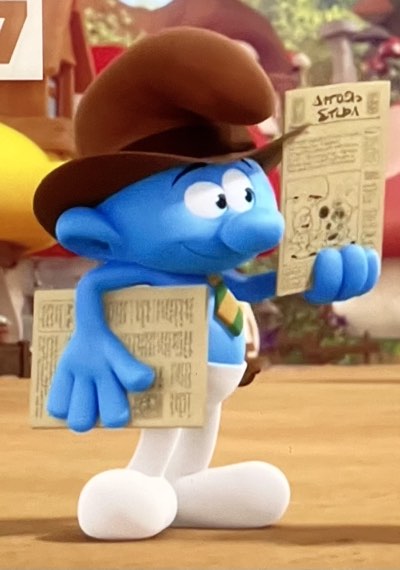 The star of this one, though, is Reporter Smurf. I love his design. It's old-school newspaper reporter stuff, even if it's just a hat with a press pass and the wide tie. I want this figurine! The tone of voice works, too, though the old-school newspaper reporters wouldn't necessarily be hawking papers on the street corners, either. That's what the Newsies were for!
He also maintains high standards for the newspaper and asks questions about sources while respecting the anonymity of them. He's a serious journalist who, unfortunately, gets caught up in the web of lies that Jokey and Poet start spinning. And, of course, the further they go with the lie — that a rock monster is awakening from a 500 year sleep to eat Smurfs — the more work they have to do to cover their tracks.
Their attempt to fabricate evidence goes laughably awry, and Reporter teams up with Brainy to teach the lying pair a lesson. I particularly liked how they explained everything they did to pull off their ruse.
Other random things: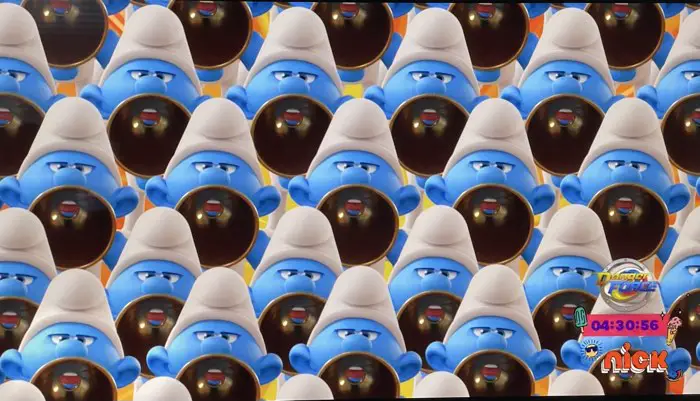 In explaining the ruse at the end of the show, the narration indicates that 97 Smurfs can make a lot of noise together, while we see about two dozen Smurfs on screen before cutting back to the original shot with about 6 or 8 Smurfs on screen.
To be fair, Peyo didn't show all 100 Smurfs together all that often, either. I can picture one story where they were all learning to sing something together, and that was a half-page panel to fit them all in.
I know the television series doesn't have an unlimited budget, but I'd love to see all 100 Smurfs on screen just once. ONCE! I just don't know if the Smurfs Village set is quite big enough to realistically fit 100 Smurfs in there. Yes, there's a housing shortage even in the Smurfs Village. THey need more low-cost Mushrooms, and maybe some high rise mushrooms to fit everyone in and —
Wait, didn't I say I wasn't going to cast real world lessons onto this show? Sorry. Back to the review:
The pictures in the newspaper are Peyo-accurate Smurf drawings. That's cool. The lettering on the paper is just squiggles, which is useful for a series that is immediately translated to so many languages.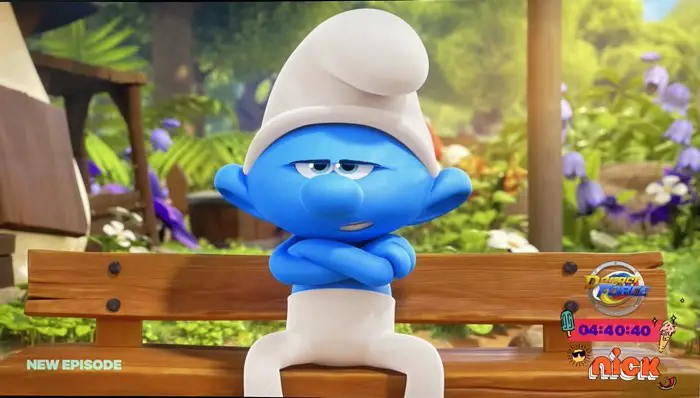 Grouchy Smurf returns with another sitting-on-the-bench one-liner: "Me, I don't like articles by Poet and Jokey."
I haven't checked yet, but at this point I'm beginning to think that the cutaway to Grouchy on the bench is reusing the same three seconds of stock footage every time. I wonder if they even reanimate the mouth or not.
Overall, a very fun short with a great new character and a fun well-executed lesson learned at the end.
Title Translation: I think the translation works out to "Scoops in Smurfs Village," though Google goes with "Scoop at the Smurfs." Close enough. I'll give Nickelodeon credit for going with the charged phrase for the title here, though.
Credits:
Script: Henry Gifford
Storyboard Supervision: Alexandre Viano
Storyboard: Lionel Brouse
Director: William Renaud