Todd McFarlane Is a Nice Guy
Todd McFarlane drew the first comic book I ever bought, "Amazing Spider-Man" #318.  I've been a fan of his artwork ever since.
Yes, I know it's not perfect in many ways, but whose art is perfect? I like his stuff.  It's cool. That's enough for me.
Once Upon a Time, I Wrote a Letter to Todd McFarlane
I don't have a specific date for this story.  It was pre-Image days.  It was probably around McSpidey #1 or that era.  Maybe earlier.
I was relatively new comic reader and a die-hard McFarlane fan, buying everything of his that I could get my hands on.  Besides the Spider-Man comics, there was an almost prolific series of magazine interviews, including The Comics Journal, Comics Interview, Wizard Magazine #1, and a couple of others I've likely forgotten.  I even bought a pin set and a poster book.
I wrote Todd McFarlane a fan letter, probably through the comic shop he partly owned in Puyallup, Washingon, at the time.  I must have been about 15 at the time.  It was just a gushing thing telling him how much I loved his art.  I don't have a copy of that letter anymore, nor do I remember anything more specific I said than that.
I was a nobody.  Just a fan.  Not even a letterhack yet.  There was no social media, and no reason for him to know who I was from a hole in the wall.
He Responded
In the mail one day came an envelope addressed to me.
Folded twice to fit inside was this 8 1/2 x 11 inch piece of paper:
It's a simple thing: a photocopy of a Spider-Man image he drew for some cover or another, with a hand-signed thanks and autograph.
Made my friggin' year.  And looking at it now, more than 25 years later, it still brings a smile to my face.
It's been sitting in a folder in hiding for way too long. I'm going to frame this and hang it on the wall.
Lesson Learned
It's a good reminder for creators that a random act of kindness can make a fan's day, and might be a memory that lasts a lifetime.
Thanks, Todd!
Post Script
The image on that paper was also used for the cover of "Comics Interview" #81, which I've quoted from elsewhere on this site.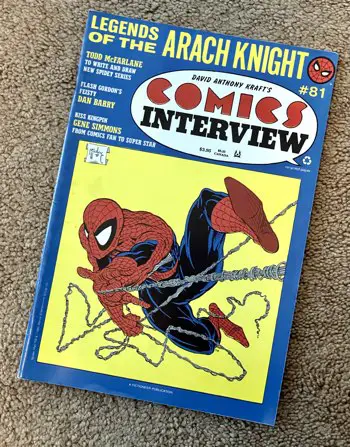 "The Art of Todd McFarlane" reprints the image and captions it as "promotional art" with "notable uses" being the above cover and "store appearance signature sheets."
That brings up the question, "Does any artist bring signature sheets with them to store appearances anymore?"